Tbilisi, 6th District Digomi 5a
Tbilisi, Chavchavadze Avenue 62
Dermatology, dermatoscopy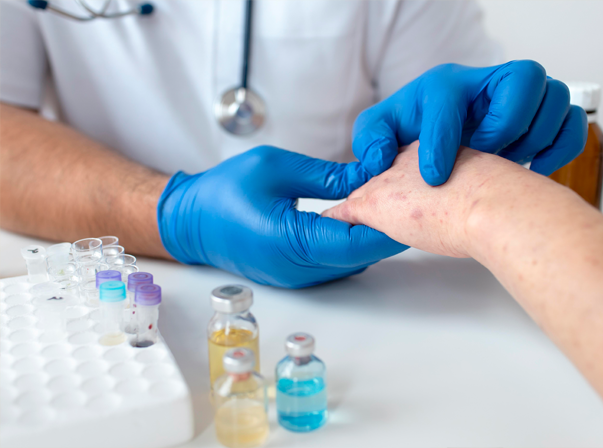 Dermatology, dermatoscopy
Addresses of clinics providing the service:
Tbilisi, 6th District Digomi 5a
Tbilisi, Chavchavadze Avenue 62
A dermatologist is a specialist who diagnoses and treats and diseases of the largest human organ – skin, as well as hair and nails. There are more than 3000 such pathologies in total, the doctor knows what each of them looks like and how to deal with them effectively. Dermatology uses both conservative and surgical treatments. The main diagnostic tool of a dermatologist is a dermatoscope. It can be used to examine the skin under magnification during the appointment and reveal the smallest pathological changes.
What diseases are diagnosed and treated by a dermatologist?
The list of dermatological diseases is very extensive. A dermatologist in Tbilisi works with the following diseases:
• eczema;
• psoriasis;
• atopic dermatitis;
• pyoderma – pustular processes on the skin;
• fungal and parasitic skin lesions;
• skin diseases caused by genetic diseases (genodermatoses);
• systemic lupus erythematosus;
• acne (pimples);
• skin pigmentation disorders;
• benign and malignant neoplasms.
What symptoms are treated by a dermatologist?
You should contact a dermatologist if you are concerned about the following symptoms:
• any rashes on the skin: spots, plaques, bubbles, ulcers, crusts, etc.;
• acne – if there are a lot of them, and it is not possible to cope with them with home remedies;
• peeling;
• signs of skin inflammation: swelling, redness, pain;
• skin itching;
• the appearance of new moles or a change in the appearance of existing ones;
• pustules;
• skin pigmentation disorders: the appearance of dark, discolored spots;
• deterioration of the condition, increased symptoms in chronic skin diseases.
Many people visit dermatologists as a preventive measure. Regular check-ups help to detect many diseases in a timely manner, including malignant tumors in the early stages. This is especially true for people with risk factors, for example, those who often sunbathe (especially if they have sunburn), those whose close relatives have been diagnosed with skin cancer or melanoma.
What happens during a doctor's appointment?
During the initial appointment, the dermatologist asks about the symptoms, collects anamnesis and conducts a visual examination of the skin. Then goes the dermatoscopy: the problem areas of the skin are examined with a special tool that provides an image magnification. If necessary, the doctor will immediately take scrapings, conduct a biopsy. An additional examination may be prescribed to clarify the diagnosis. At the end of the appointment, the doctor will make a diagnosis and give recommendations for treatment. During repeated admission, the dermatologist examines the results of the examination, clarifies the diagnosis. Further the doctor evaluates the course of the disease in dynamics, the effectiveness of treatment, and, if necessary, corrects it.
In the SILK Medical Clinic you can make an appointment with an experienced specialist who will carefully assess the condition of your skin and will prescribe the most modern, effective treatments. Dermatoscopy in Tbilisi is also available at SILK Medical clinic.
Make an appointment to see a specialist
By submitting this form, I confirm that in accordance with the requirements of the "Federal Law On Personal Data № 152-FZ" and in accordance with the Terms I give my consent to the processing of my personal data