A caring and personalized approach to preserving women's health

15 IVF programs and other modern technologies for treatment efficiency

An international team of of leading experts in the field of Reproduction

Modern state-of-the-art equipment and facilities laboratories and operating rooms

About direction
Services
Doctors (5)
Articles (0)
Related directions
About direction
The special approach – to the smallest patients.
Each mother dreams of a personal pediatrician to whom she can unconditionally entrust the health of her children. It is a great luck to find such a specialist and they are in SILK Medical. Our pediatricians carry out both preventive examinations necessary at different stages of the baby's upbringing and disease counselling.
Contrary to popular misconception, pediatrics is aimed not only at the treatment of infant and teenage diseases. This is the science of the health and proper development of a child, in accordance with the age characteristics of different periods of his life.
Regular pediatric check-ups
Control of growth and development of premature babies
Vaccination calendar
Organization of the child's nutrition
Treatment of acute respiratory viral infections and infectious diseases
Treatment of allergic manifestations.
Monitoring by a specialist is strictly required and included in priority measures to protect child's health. Scheduled examinations are prescribed and carried out in accordance with age, paying attention to the peculiarities of the development of young organism in each specific period of life.
The pediatrician is addressed not only for detecting catarrhal diseases or other negative symptoms, he monitors the health of the child until maturity. It is during this period that not only the external physical (bodily) development takes place, but also most of the internal systems of the body including also the nervous system, therefore it is so important to preserve and if necessary return a healthy state to the child so that he can maximize his innate potential of life.
In the presence of complaints and any ailments a visit to a pediatrician should never be postponed. You need to make an appointment with a specialist immediately if the child has a fever, tearfulness, drowsiness, rash, vomiting, nausea, regurgitation, loose stools, constant crying, disturbed night sleep, convulsions, twitching, cough and other symptoms. It is better to see a doctor in such cases if the baby has fallen, he has been bitten by insects or animals, with even the slightest suspicion of any abnormalities in the child's health. Many diseases can have their own specific modality and symptoms, self-diagnosis does not always turn out to be correct and can have harmful consequences.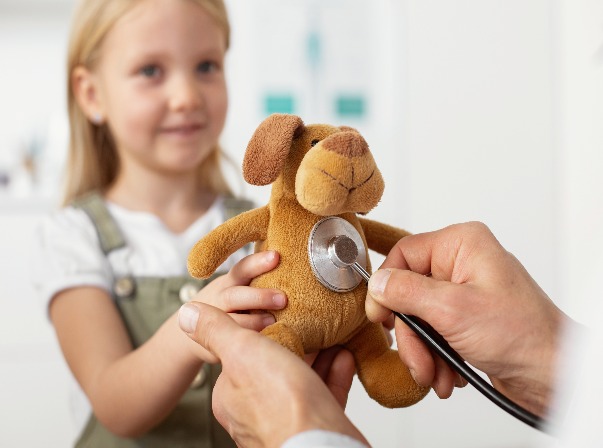 Examination and diagnosis
Pediatricians in our clinic always conduct a thorough examination and apply an individual approach to each baby. Knowledge of three languages contributes to the rapid establishment of contact with young patients and helps to build the most accurate picture of ailments, which means to determine the course of further examinations and treatment methods with greater accuracy and effectiveness.
Professional equipment that meets international standards as well as high-class specialists allow us not only to diagnose any types of diseases with maximum accuracy but also to carry out any types of rehabilitation in our clinic.
After evaluating the results of the examination the doctor will prescribe the most effective therapy for the identified problem or refer for further treatment to a specialist in this type of disease.
You can make an appointment with the pediatrician of our clinic by phone or by filling out the feedback form. We will find the best time for you to visit and will be happy to answer any questions.
Services
Doctors (5)
Articles (0)
Related directions
Make an appointment to see a specialist