Tbilisi, 6th District Digomi 5a
Tbilisi, Chavchavadze Avenue 62
Endocrinologist consultation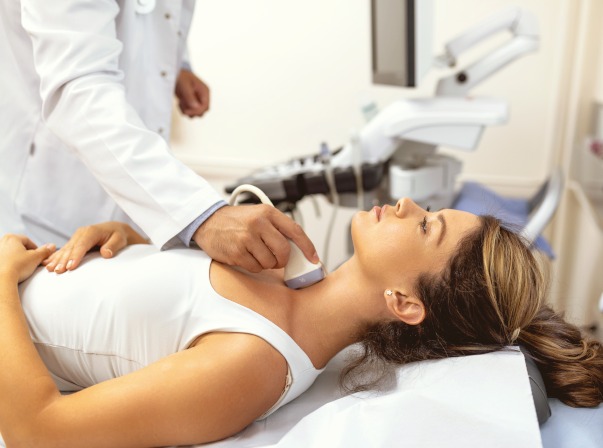 Endocrinologist consultation
Addresses of clinics providing the service:
Tbilisi, 6th District Digomi 5a
Tbilisi, Chavchavadze Avenue 62
An endocrinologist is a doctor who diagnoses and treats diseases of the endocrine system. For prevention, it is recommended to visit this specialist annually. 
When it is necessary to make an appointment with an endocrinologist
The following complaints may be a reason to contact an endocrinologist:
weakness and increased fatigue

sweating

sleep disturbance

mood swings

dry skin

feeling of a "lump in the throat"

weight change

hair loss

an increase in the mammary glands in men

high thirst, increased urination

long wound healing

infertility

cramps and muscle pain

an increase in the size of the neck

violation of libido 
Endocrine diseases are characterized by a variety of symptoms, so competent and early diagnosis is important. In SILK Medical reception is conducted by highly qualified doctors with great experience. Our specialists regularly attend  lectures and seminars, participate in conferences and symposiums.
How is the endocrinologist's appointment performed 
At the initial consultation the endocrinologist asks the patient about the complaints, way of life and collects the history of the disease. The doctor determines the nature of the symptoms, when they appear and possible causes. Then the doctor proceeds to the examination. First assesses the patient's physique, the condition of his skin and the type of hair growth. Thereafter  measures blood pressure and pulse, feels the thyroid gland and lymph nodes.
Various methods of laboratory and instrumental diagnostics are used to confirm the diagnosis in endocrinology. Among them are:
general and biochemical blood analysis

total urinalysis

hormone test

ultrasound

MRI and CT

radiography

osteodensitometry
The scope of the diagnosis is determined by the doctor on an individual basis during the appointment. Based on the results the necessary treatment is selected. 
SILK Medical Multidisciplinary Medical Center is equipped with modern expert-class equipment. The endocrinologists of the clinic follow current international guidelines and do not prescribe unnecessary tests. 
Make an appointment to see a specialist
By submitting this form, I confirm that in accordance with the requirements of the "Federal Law On Personal Data № 152-FZ" and in accordance with the Terms I give my consent to the processing of my personal data