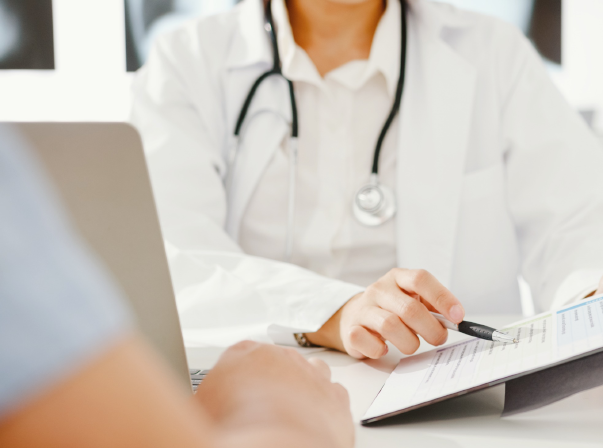 Therapist's appointment
Addresses of clinics providing the service:
Tbilisi, 6th District Digomi 5a
Tbilisi, Chavchavadze Avenue 62
Batumi, Luka Asatiani street, 45
The therapist is the most multi-profile specialist. The therapist can assess the symptoms and severity of the patient's condition, conduct the necessary examination to determine the final diagnosis and prescribe effective treatment.
How is the therapist's appointment going
The initial consultation begins with anamnesis of the disease and life. The therapist collects information about existing allergic reactions, heredity, surgeries. Then the examination starts. If necessary, the doctor listens to the lungs and heart, measures the temperature, blood pressure and pulse. The therapist examines the throat, feels the lymph nodes, thyroid gland and feels the stomach. The consultation ends with a preliminary diagnosis. To confirm it, various methods of laboratory and instrumental diagnostics can be used: 
general and biochemical blood test

urinalysis

ECG

radiography

ultrasound
When determining the scope of the examination, the therapist takes into account the  patient's condition, complaints, age and other factors. The list of tests may be extended if necessary. 
According to the results of the tests, the doctor establishes the final diagnosis. Depending on the pathology, the therapist can prescribe treatment or give a referral to a narrow specialist. 
SILK Medical Multidisciplinary Medical Center has highly qualified and experienced therapists. Our specialists have extensive knowledge in various fields of medicine. Therapists are guided by modern clinical recommendations. The advanced equipment installed in the clinic allows us to conduct any amount of examinations of various levels of complexity.
Make an appointment to see a specialist
By submitting this form, I confirm that in accordance with the requirements of the "Federal Law On Personal Data № 152-FZ" and in accordance with the Terms I give my consent to the processing of my personal data