Tbilisi, 6th District Digomi 5a
Tbilisi, Chavchavadze Avenue 62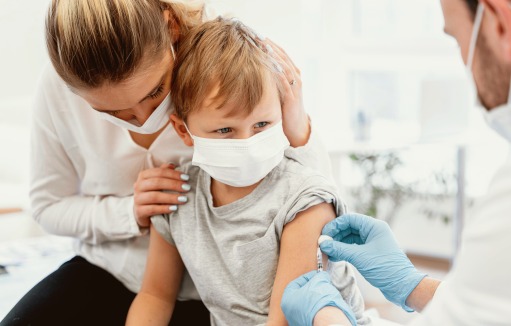 Vaccination of children
Addresses of clinics providing the service:
Tbilisi, 6th District Digomi 5a
Tbilisi, Chavchavadze Avenue 62
Vaccination of children at the SILK Medical Clinic is an effective and modern way to protect children from dangerous diseases. We carry out both planned and emergency vaccinations of children of all ages and use only those vaccines that have been approved in many countries and have proven successful in the major clinics of West and Europe.
What do you need to know about vaccination of children? 
For premature babies, an individual vaccination calendar is compiled after a pediatrician's examination.

If you missed scheduled vaccinations for some reason, the SILK Medical pediatrician will help you create a catch-up vaccination calendar.

The national schedule is designed in such a way that children receive the first stages of vaccines at the age of two.

Combining kindergarten and active vaccination is not always successful: during socialization, children can often get sick. With the beginning of school the frequency of ARVI, as a rule, decreases, and at the same time the stage of revaccinations begins.
How is the vaccination of children going at SILK Medical?
Since viral or infectious diseases, you should wait 1-2 days after recovery. 
Before vaccination, the doctor checks the vaccination certificate, tests, collects anamnesis: whether there are acute and chronic diseases, possible contraindications, allergic reactions, how passed previous vaccinations. It is mandatory to examine the child: the temperature is measured, the skin is examined to see if there are any suspicious rashes, redness.
After the vaccine is received, we recommend staying in the clinic for 30 minutes to monitor and assess the child's condition.
Please note that mandatory vaccinations are those vaccines that are provided by the state based on its budget. The more wealthy the state, the wider the national schedule. We advise you to pay attention to the list of vaccinations against vaccine-preventable diseases , which we recommend to include in additional preventive measures.
| | |
| --- | --- |
| age | disease |
| 6 to 32 weeks | rotavirus |
| from 2 months | meningococcus |
| from 12 months | chickenpox |
| from 12 months | hepatitis A |
| from 9 years  | HPV |
| according to epidemiological indications, from 12 months | tick-borne encephalitis |
You can make an appointment to vaccinate and see the pediatrician of our clinic by phone or using the feedback form below. We will gladly answer all your questions and select a convenient time for a visit. 
Make an appointment to see a specialist
By submitting this form, I confirm that in accordance with the requirements of the "Federal Law On Personal Data № 152-FZ" and in accordance with the Terms I give my consent to the processing of my personal data