Tbilisi, 6th District Digomi 5a
Tbilisi, Chavchavadze Avenue 62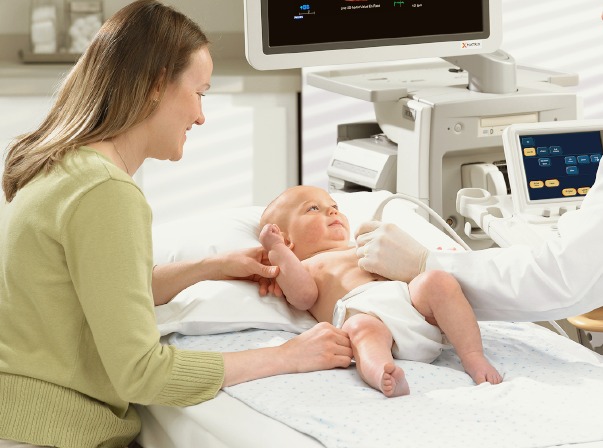 Ultrasound for children
Addresses of clinics providing the service:
Tbilisi, 6th District Digomi 5a
Tbilisi, Chavchavadze Avenue 62
Ultrasound is a valuable diagnostic method in pediatrics. It helps to identify many diseases in the early stages, often even before the first symptoms appear. At the same time, this diagnostic method is safe: ultrasonic waves, unlike X-rays, can not cause harm to the body. Therefore, ultrasound can be used even during pregnancy.
What types of ultrasound should a child undergo?
In children, various ultrasounds are used as screening. They are recommended to be done at a certain age for all children, regardless of whether there are symptoms or suspicion of any disease:
Ultrasound of the abdominal cavity

helps to assess the condition of many organs

Ultrasound of the kidneys and bladder

helps diagnose infections, neoplasms,

urinary tract obstruction

Cardiac ultrasound (ECHO-CG)

–  

method for diagnosing heart defects

and heart valves, large vessels and some other diseases.

Thyroid ultrasound

used to reveal nodes, size increase and other states.

Ultrasound of the scrotum (in boys)

allows to identify varicocele and

undescended testicle

(

cryptorchidism

).

Ultrasound of the pelvic organs

reveals changes in the rectum, prostate, bladder, uterus.

Neurosonography (ultrasound of the cranial cavity)

helps to identify vascular and brain abnormalities, cysts, hemorrhages. It is carried out for all children. As a rule, most of the changes – enlargement of the ventricles, an interhemispheric fissure, small cysts – although they need dynamic control, but they are "outgrown" and are compensated by the year of the child.

Ultrasound of the hip joints

– a screening study for early diagnosis of hip dysplasia.
Prophylactic ultrasound of the abdominal cavity and kidneys should be performed at the age of 1 month, 6 and 15 years. ECHO-CG is carried out in 1 month and 6 years. Thyroid gland is examined once at age 6 and neurosonography,  ultrasound of the hip joints are performed at the age of 1 month.
In the SILK Medical clinic, all these studies are carried out on modern expert-class equipment. They are performed by experienced doctors who are able to find an approach to small patients.
Make an appointment to see a specialist
By submitting this form, I confirm that in accordance with the requirements of the "Federal Law On Personal Data № 152-FZ" and in accordance with the Terms I give my consent to the processing of my personal data