Tbilisi, 6th District Digomi 5a
Tbilisi, Chavchavadze Avenue 62
Services > Obstetrics and Gynecology > For women >
Treatment of cervical diseases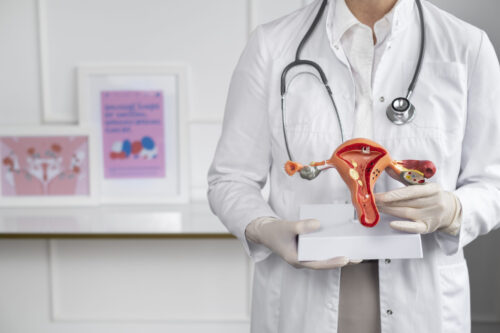 Treatment of cervical diseases 
Addresses of clinics providing the service:
Tbilisi, 6th District Digomi 5a
Tbilisi, Chavchavadze Avenue 62
The shape of the womb resembles an inverted vessel with a neck. The vessel itself is the body of the uterus, and the neck is its lower part, which is called the cervix. Various pathologies may develop in it. If they are not treated in a timely manner, they lead to a decrease in the quality of life, female infertility and threaten serious complications.
The SILK Medical clinic uses the most modern methods of treating cervical diseases. All procedures are carried out by experienced gynecologists using the latest equipment.
What diseases occur in the cervix?
Various pathologies may occur in the cervix:
polyps;

erosion;

leukoplakia;

ectropion, ectopia;

endometriosis;

viral papillomas;

Nabatova cysts;

scarring;

dysplasia, precancerous changes;

malignant neoplasms.
For these diseases, surgical treatment is most often required. Currently, there are a number of minimally invasive techniques.
Modern methods of treatment
In our clinic in Tbilisi, the following types of treatment are used for cervical pathologies: 
Diathermy Excision

is the excision of the conical part of the cervix with the aid of a special electrode. It is used in II-III degree dysplasia, scar process, ectopia, hypertrophy.

Diathermocoagulation

is a procedure during which a pathological formation is cauterized and removed using an electric current. Diathermocoagulation is used for mild and moderate dysplasia, ectopia, endometriosis, and condyloma.

Cervical conization

– the excision of the area in the form of a cone. Classical method using a scalpel is currently almost not used. Modern doctors carry out conicification with the help of laser, radio wave method, diathermoexcision.

Removal of polyps

can be performed using a special loop, laser or electrocoagulation knife. 

Removal of condylomas

is also carried out in various ways, most often with a laser or with the use of radio wave surgery.
After the examination gynecologists at SILK Medical Tbilisi consult patients in detail, tell them which treatment method will be optimal in a particular case and answer all questions.
Make an appointment to see a specialist